Well here I am over 3 months
In. I have personally reffered 3 in my main program 53.85 fast track
7 in my secondary 1 upgrade
11.35 commission. Not alot of money yet but I think in time
It will progress . Being persistent
Is key. Ok I've got my main programs world profit and prosperity marketing.
I've got my autoresponder
Trafficwave. That's 3 separate streams of income. but that's just the tip of the iceberg because we have all the list builders 2 that you can use to get traffic to your programs. My blog post "some more List builders". These are programs that I use and I track which ones are doing better than others. some good programs that you can use to get a list of subscribers. I'm continuing to add more. anyway here's a list of my main programs my autoresponder and anything else I can think of that I might have made a few dollars on so far. Post more later.
Have an awesome day.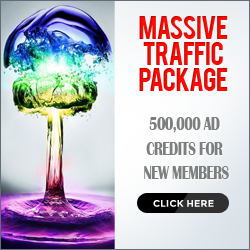 https://promo-bot.com/?id=5765786
Update: At this point I have 3 in trafficwave, 7 in Prosperity Marketing paid member just
upgraded for this month made me another $11.35, my 10000 hits a day I have 18 subscribers and 1 in world profit.. That's a total of 29 subscribers. Post more later.